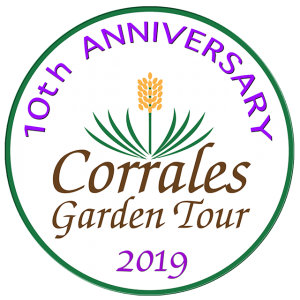 Corrales Garden Tour, Sunday, June 2, from 9AM to 4PM. Tickets available now at Brownpapertickets.com, and beginning May 1 at designated garden centers, plus Village Mercantile, and Frontier Mart.
Celebrating the Corrales Garden Tour's Tenth Anniversary, this year the tour offers a special retrospective, presenting gardens from the first two years. They were lovely then — how have they matured? What have the owners done to enhance them? These gardens fulfill their owners' dreams. Visit and enjoy the differences or see these early gardens for the first time and find ideas for your own garden.
While all the gardens encourage sitting and spending time, some are specifically designed for entertaining. They all offer gracious spaces ideal for parties and family events. Inviting seating, a swimming pool, paths with sculptures, hidden gems behind adobe walls, unexpected vistas, and carefully arranged benches and bancos make these gardens perfect for happy times.